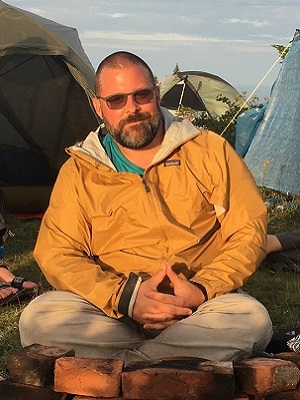 Beau Devlin (White Buffalo) - Lead Guide / Permitting / Equipment Manager / Staff
Beau lives in Sioux Falls, SD and holds the following certifications:
Beau was born and raised in Sioux Falls, SD and spent 12 years in the US Army. His love for the outdoors began at an early age, spending most of his time in a grove of trees in a field near his house. Since then he has worked with several organizations teaching the skills of canoeing, backpacking and outdoor skills to youth and adults. When on trail do not be surprised to hear him quoting movies that you probably have never heard of. Beau will suffer on your behalf (when necessary) and has been known to carry 2 fully loaded backpacks at the same time on many occasions.
Beau has guided the following trips:
Theodore Roosevelt NP, June 2014
Mt. Rushmore / Black Hills, SD, June 2015
Redwood NP, CA, July 2015
Yellowstone NP, WY, Aug 2015
River To River Trail / Shawnee NF, IL, Apr 2016
Mt. Rainier NP, WA, Sep 2016
East Coast Trail, NF, Canada, Aug 2018
Superior Hiking Trail, MN, September 2019
Mt. Rushmore / Black Hills / Wind Caves, SD, June 2020
Crater Lake NP, OR, August 2020
Great Smoky Mountains NP, LeConte Lodge, NC/TN, Oct 2020
Shenandoah National Park, VA, October 2020
Cumberland Island National Seashore, GA, Feb 2021
Sedona / Coconino NF, AZ, May 2021
Shenandoah National Park, VA, May 2021
Isle Royale National Park, MI, June 2021
Black Hills / Centennial Trail, SD, May/June 2022
;